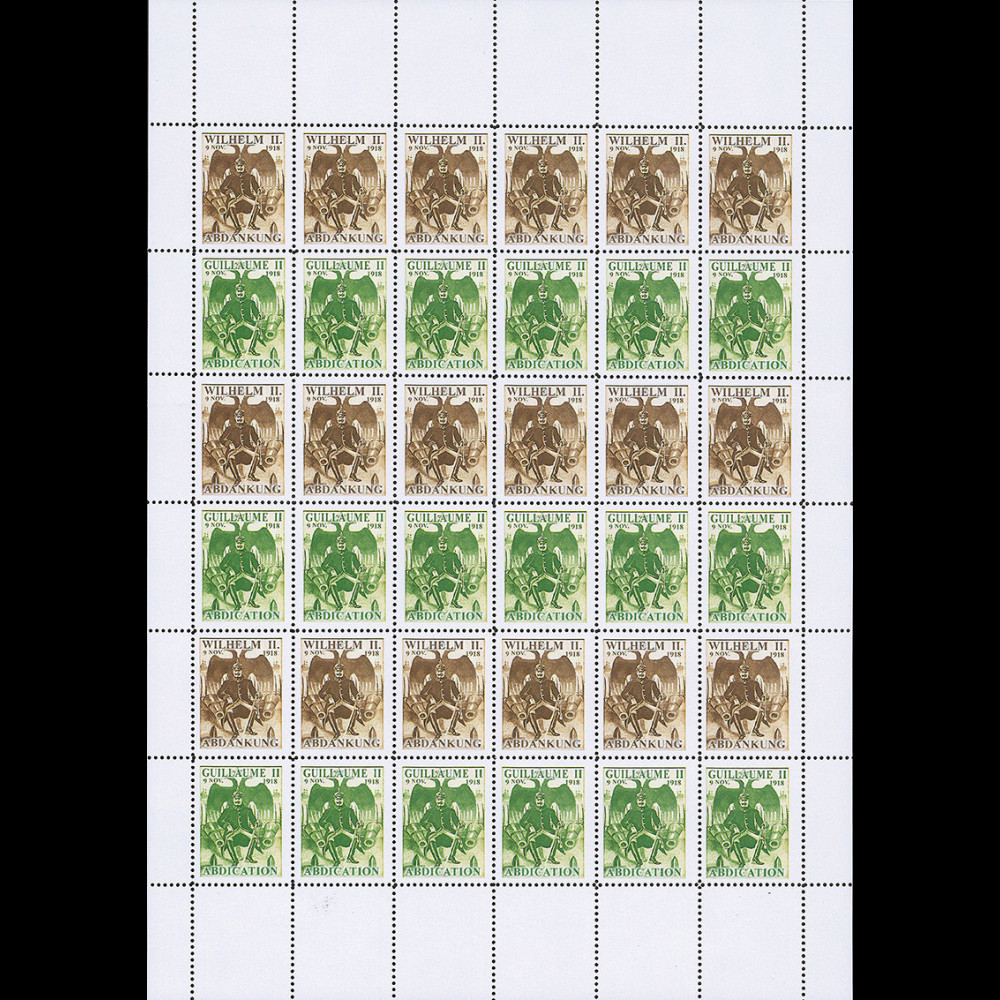  
CENT18-10VIF : 2018 France - full sheet 36 cinderella stamps Centenary ARMISTICE 1918 - Abdication German Emperor William II
CENT18-10VIF : 2018 France - Full sheet of 36 satirical cinderella stamps, perforated und gummed  "Centenary of Armistice 1918-2018 / Abdication of the German Emperor William II, on November 9, 1918."

French and German legends
MINT**
les derniers jours qui ont mis un terme à la première guerre mondiale
9 novembre 1918 : ABDICATION DU KAISER GUILLAUME II et proclamation de la République de Weimar   

Les mutineries de la marine allemande de l'automne 1918 et  l'instauration de conseils ouvriers dans toutes les grandes villes de l'empire, forcèrent le Kaiser à renoncer non seulement au trône allemand, mais aussi au trône de Prusse. le Kaiser Guillaume II n'eut d'autre choix que de se résigner à abdiquer officiellement le 9 novembre 1918 et la république de Weimar fut proclamée le même jour.

À l'issue de la guerre, il est désigné par les puissances alliées comme le principal responsable du conflit et l'article 227 du traité de Versailles de 1919 l'accuse personnellement "d'offense suprême contre la morale internationale et l'autorité sacrée des traités".
Data sheet
dateemission

11/11/2018