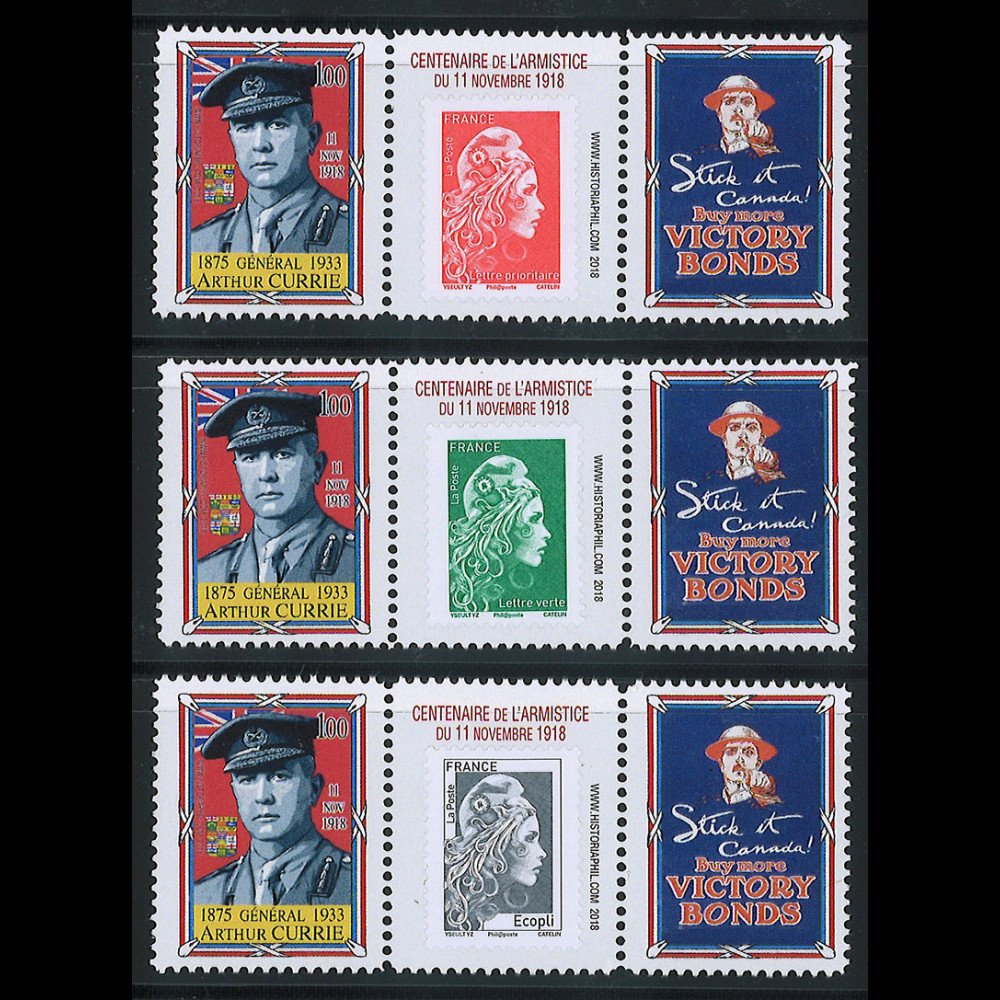  
CENT18-3PT1-3 : 2018 France - Marianne on 3 cinderella stamp blocks "Centenary ARMISTICE 1918 - Canadian Exp. Forces General Currie"
CENT18-3PT1-3 : 2018 France - set of "Marianne" on cinderella stamp blocks of 3, perforated und gummed  "Centenary of Armistice 1918-2018 / General A. Currie, Commander of the Canadian Expeditionary Forces Corps CEF"

Postage France "Marianne l'Engagée 2018" (prio, lettre verte, eco 20g)
MINT**
les derniers jours qui ont mis un terme à la première guerre mondiale
OFFENSIVE ALLIÉE VICTORIEUSE DES 100 JOURS   août - nov. 1918
Le Corps Expéditionnaire Canadien, meilleure force offensive alliée sur le Front occidental   

En 1918, le Corps Expéditionnaire canadien (CEC), commandé par le général Arthur CURRIE, avait acquis la réputation de meilleure force
offensive des troupes alliées sur le front occidental.

Durant l'OFFENSIVE DES CENT JOURS (ou CENT JOURS DU CANADA), du 8 août au 11 novembre 1918, sous commandement de la première armée britannique, les forces canadiennes et alliées, dans une série de batailles d'importance, repoussèrent sans relâche l'armée allemande vers l'est, à partir d'Amiens en France, jusqu'à Mons en Belgique.

Cette offensive déboucha sur la capitulation allemande et la fin de la guerre.
Data sheet
dateemission

11/11/2018