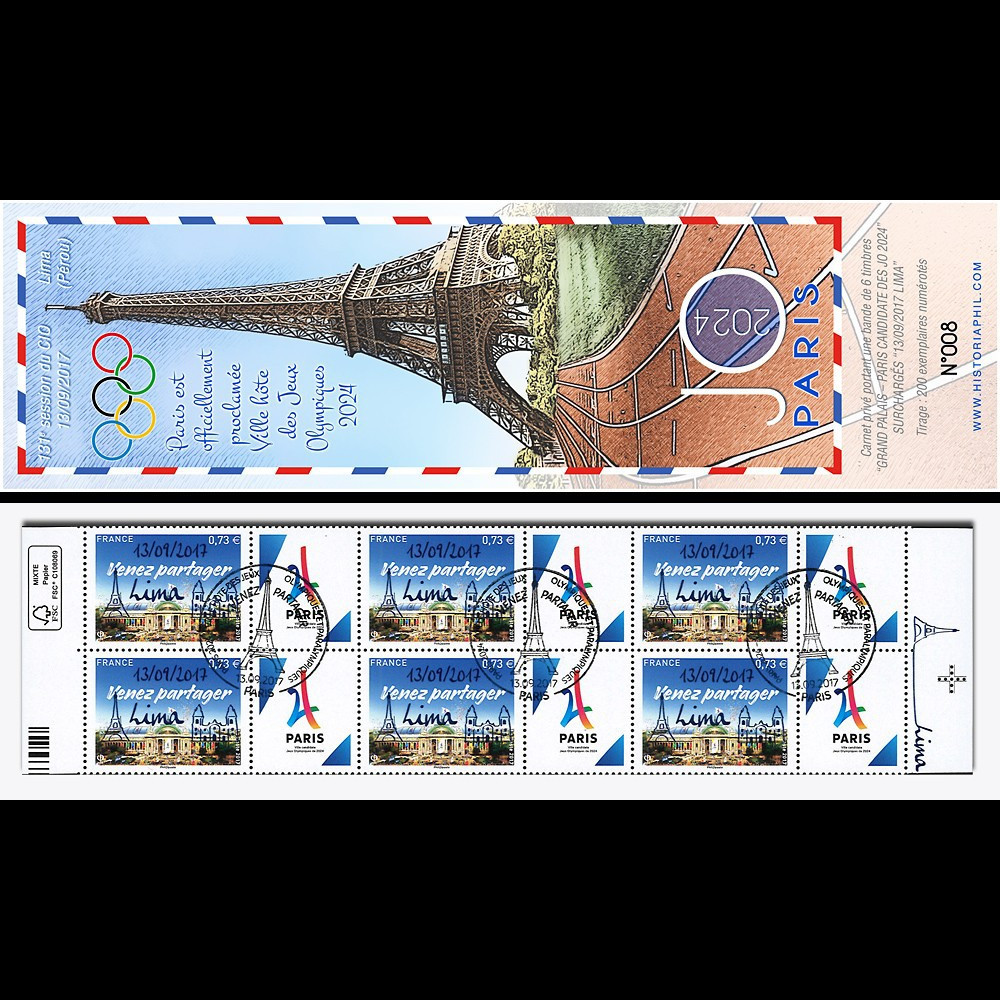  
JO2024-COB FRANCE 1st Day Collector booklet Olympic Games Paris 2024 OVERPRINT "13-09-17 Lima"
JO2024-COB : FRANCE COLLECTOR booklet with 6 values 0,73€ + adjoining label "Grand Palais - Paris candidate of the Olympic Games 2024 - Come share" overprint "13/09/2017 Lima - Eiffel Tower and Catedral de Lima (Peru)" (issued from the sheet of 24 valeurs)

Postmarked First Day in Paris "Paris 2024 Host City of the Olympic and Paralympic Games - Come Share - Tour Eiffel" September 13, 2017

Extremely rare, only 200 NUMBERED copies - THE LAST COPIES IN STOCK

Important: This stamp isn't included in the annual subscriptions of the Post.

Expert opinion: An opportunity not to be missed due to a small draw and an official sale limited to 18 days. A good prospect of scarcity for the Olympic year 2024.
100% secure payments
On 13 September 2017, at its 131st session in Lima (Peru), the International Olympic Committee (IOC) officially announced that Paris will host the 2024 Olympic Games.

On this occasion, Phil @ poste obtained exceptional authorization from the Paris bid committee - which will see its mission stop on September 30 - to be able to carry out a special surcharge "13/09/2017, LIMA" on the sheet of 24 stamps "Grand Palais - Paris candidate of the Olympic Games 2024" registered in the philatelic program and issued last May.

This sheet of 24 stamps, of which each stamp and the border have been overloaded with the mention "13/09/2017, Lima" and the representation of Paris and Lima, has been drawn only 10,000 copies.

The overloaded sheets were taken from the stocks of the stamp issued last May and the official sale will only take place from 14 to 30 September 2017, the date of dissolution of the bidding committee Paris 2024.
Data sheet
dateemission

13/09/2017