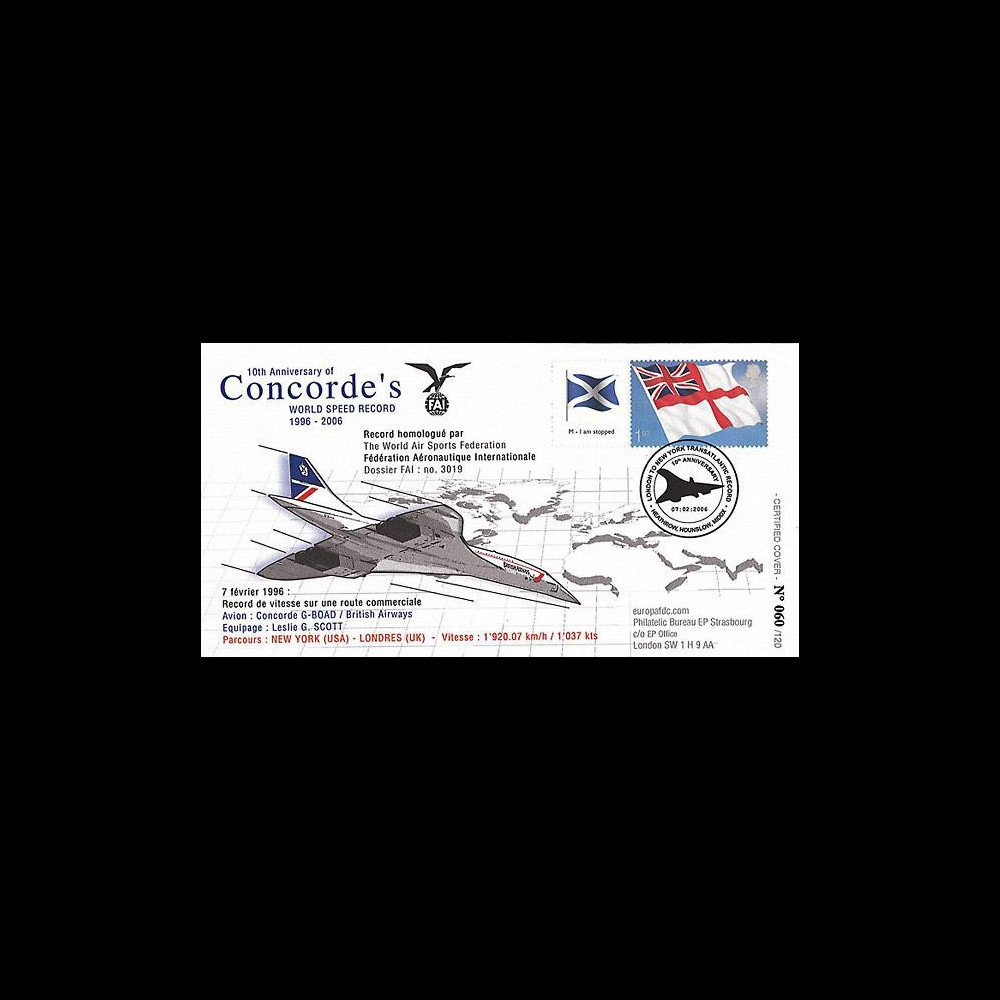  
CO-RET33 : 2006 - 10 years of the Concorde's World Speed Record
N°CO-RET33: Commemorative FDC "Concorde G-BOAD - 10th anniversary of the speed's record on the commercial road on 7February 1996"
Postmark cancellation "Heathrow - 10th anniversary London to New-York transatlantic record" 07.02.06
Postage 1 value TP Great Britain 2005 'White Ensign'.
Limited drawing N°1/120
Concorde et les records du monde FAI

Tout au long de sa carrière, Concorde enregistra de nombreux records du monde homologués par la Fédération Aéronautique Internationale (FAI). Quelque 180 records du monde sont en effet répertoriés dans les archives de la FAI, le premier datant de 1976, et le dernier du 8 octobre 2003; la FAI venait en effet de recevoir l'avis d'une tentative de record effectuée seulement deux semaines avant la mise hors service de Concorde (voir Communiqué FAI no 23/03).

Les records du monde effectués par Concorde enregistrés auprès de la FAI se répartissent ainsi : 2 records de vitesse autour du monde, 48 records de vitesse sur routes commerciales et 130 records de vitesse sur parcours reconnus.

Le 7 février 1996, Concorde effectua une performance figurant parmi les plus remarquables : Record de vitesse sur une route commerciale pour Concorde G-BOAD / British Airways piloté par le Captain Leslie G. SCOTT sur le parcours : New York (USA) - Londres (UK). Vitesse : 1'920.07 km/h / 1'037 kts. Dossier FAI : no. 3109

Un pli spécial, tiré à seulement 120 exemplaires numérotés, commémore le 10e anniversaire de ce record historique.
Data sheet
dateemission

07/02/2006