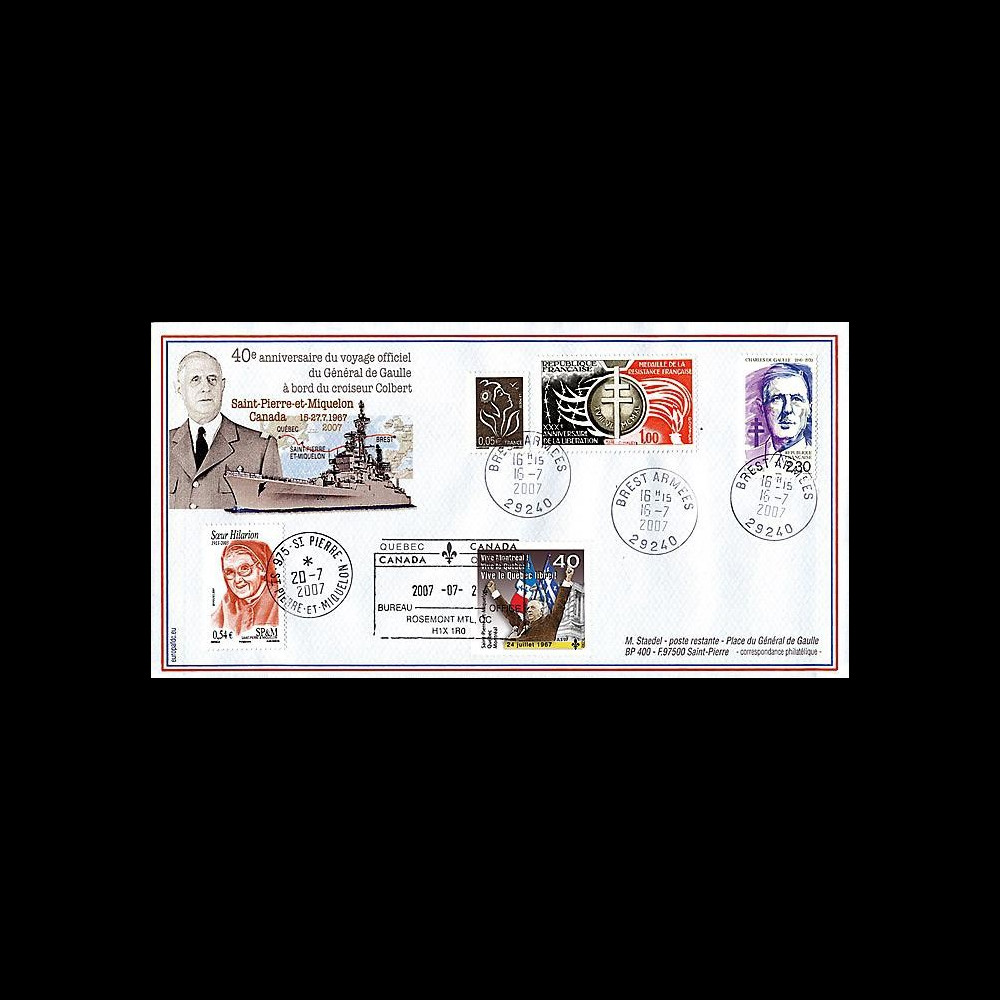  
DG07qc-1 : 2007 - Official trip Gal de Gaulle on destroyer Colbert
N°DG07qc-1 : Special FDC '40th anniversary of the official trip of the General de Gaulle on board of the destroyer Colbert'
Postage France 'Medal of the French Resistance'
+ 'Centenary of Charles de Gaulle' + Saint-Pierre-et-Miquelon 'Sister Hilarion'
Cancellation at the dates of anniversary 'Brest Armies' 16.7.07 (at sea) on French stamps + St-Pierre-et-Miquelon 20.7.07 (speech Place de Gaulle) on stamps 'SPM' + Quebec 24.7.07 (speech Montreal) on vignette 'de Gaulle, Long life to Quebec free'

Drawing N°1/100
>> See all the products "Products Ship > Destroyer Colbert"
Il y a 40 ans sur les traces de Jacques Cartier, le Général de Gaulle embarquait à bord du croiseur 'Colbert' pour une visite officielle à Saint-Pierre-et-Miquelon et au Canada.

15-27 juillet 1967 : Tout avait été pensé de manière à faire de ce voyage un symbole. De Gaulle appareillait de Brest pour Saint-Pierre-et-Miquelon à bord du croiseur 'Colbert' - du nom de celui qui avait organisé l'administration de la Nouvelle France - puis remontait le Saint-Laurent, comme l'avait fait Jacques Cartier en 1534 lorsqu'il découvrait le Canada.
Data sheet
dateemission

16/07/2007