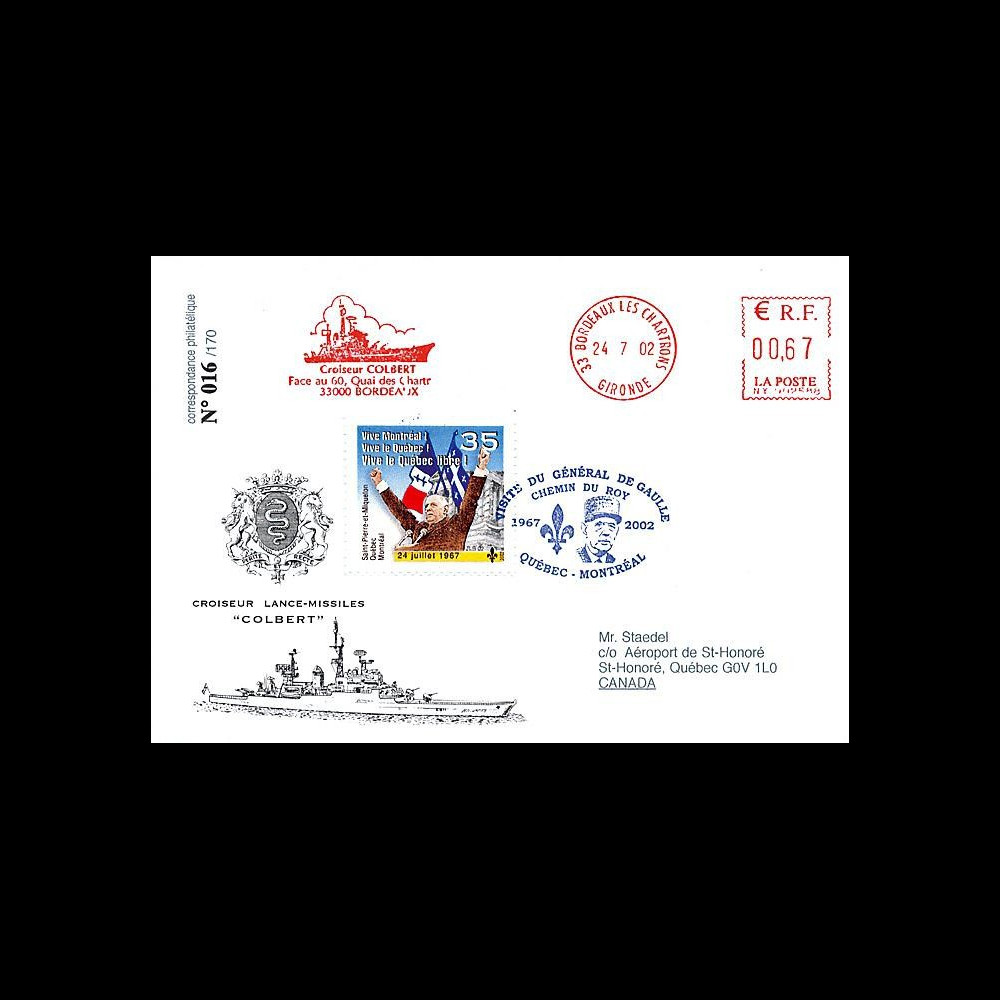  
DG02qc-5: cover France-Canada - DE GAULLE CRUISER COLBERT QUEBEC 1967-2002
N°DG02qc-5: Official cover "French guided-missile cruiser Colbert"
"35th anniversary of the official voyage of General DE GAULLE aboard the cruiser Colbert - Saint-Pierre-et-Miquelon, Canada, Long live free Quebec! 1967-2002"

Red slogan cancellation (EMA) 0,67€ "Guided Missile Cruiser Colbert, Bordeaux" 24.07.2002
+ label «de Gaulle - Long life to Free Quebec ! 1967-2002»
+ cachet «de Gaulle - Canada - Road of the Roy»

Collector's Edition - 170 numbered copies issued - Rare
100% secure payments
35 years ago in the footsteps of Jacques Cartier, General de Gaulle boarded the cruiser 'Colbert' for an official visit to Saint-Pierre-et-Miquelon and Canada.
July 15-27, 1967: Everything had been thought out in such a way as to make this trip a symbol. De Gaulle sailed from Brest for Saint-Pierre-et-Miquelon aboard the cruiser 'Colbert' - named after the man who had organized the administration of New France - then sailed up the Saint-Laurent, as Jacques Cartier had done. in 1534 when he discovered Canada.
Data sheet
dateemission

24/07/2002