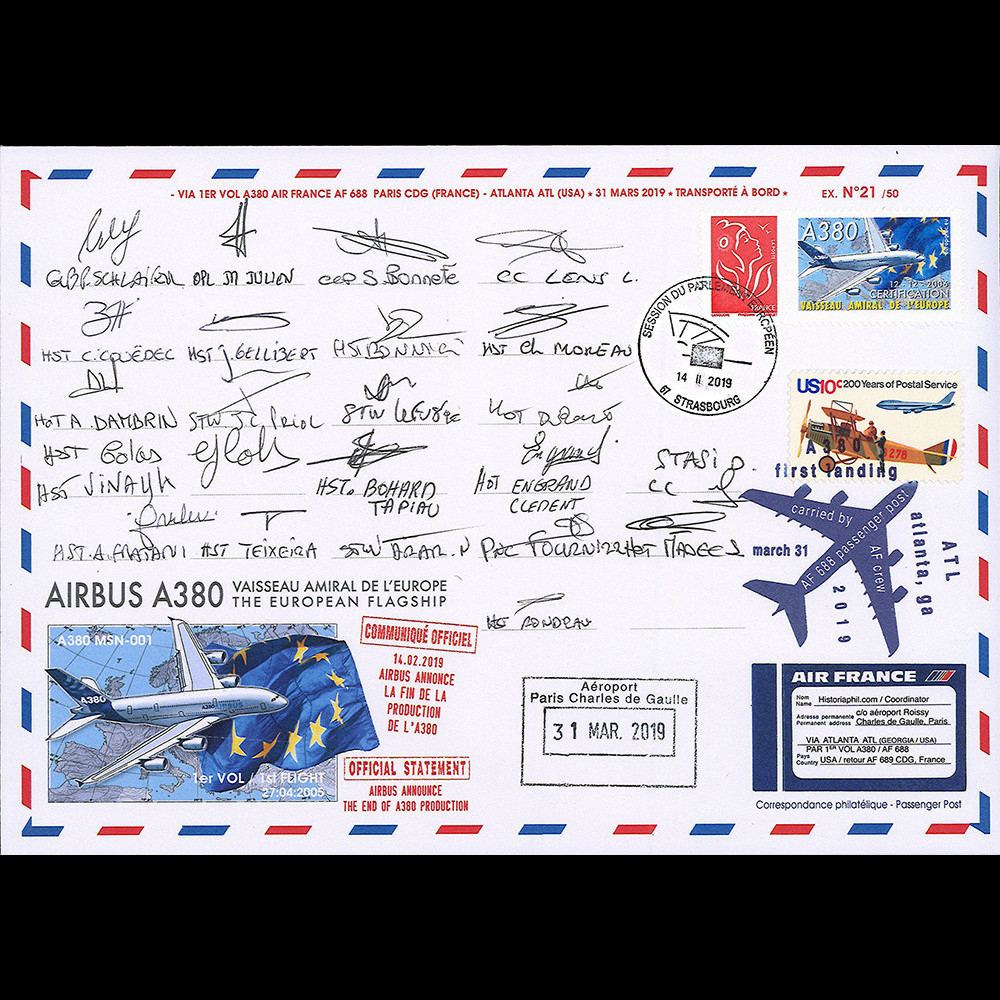  
A380-304D : 2019 End of A380 - 1. Flight A380 Air France Paris-Atlanta Crew signed
N ° A380-304D: 2019 France - Aerophilatelic cover (Maxi-FDC) "Airbus A380 Flagship of Europe - Press release of 14.02.2019:
Airbus announces the end of production of the A380 ",
Carried on board "1st flight A380 Air France AF 688 Paris CDG - Atlanta ATL (USA) 31.3. 2019 "

Postage France TPP TVP rouge "Marianne - Certification A380 12-12-2006"
canceled Strasbourg "Session of the European Parliament" 14.02.2019


+ transit stamp "Paris Charles de Gaulle Airport - March 31, 2019"


+ Postage US 10c "Bicentenary of the US Postal Service 1775-1975"
canceled arrival "A380 First Landing Atlanta, GA - March 31, 2019 - AF 688 passenger post carried by AF Crew"

+ authentic signatures of the 23 Air France crew members of the 1st flight A380 AF 688 Paris - Atlanta
+ flight certificate

Collector's Edition on "vellum" envelope (16 x 23 cm),
print only 50 numbered copies - Rare
100% secure payments
14.02.2019 : Airbus set to scrap production of the world's largest airliner
Sad day for lovers of aeronautics. Airbus has announced the end of production of the A380, its flagship whose deliveries will cease in 2021, announced Tom Enders in a statement Thursday, February 14. "The consequence of this decision is that our order book is no longer sufficient to allow us to maintain production of the A380 ((after the Emirates company decided to reduce its orders by 39" A380 "). This will put an end to deliveries of A380 in 2021 ".

Emirates replaces this order with another for 40 "A330neo" and 30 "A350". According to the manufacturer, "the current ramp-up (of production) of the A320 and the new wide-body order from Emirates will offer many possibilities for internal mobility." But Airbus did not hide the fact that in the absence of this command, the program was doomed to stop. "Quite frankly, if we don't reach an agreement with Emirates, there will be no choice but to stop the program," said ex-Airbus chief commercial officer John Leahy.
250 aerophilatelic covers "End of production of the A380", carried from the European Parliament in Strasbourg via Paris CdG (France), on board the 1st flight of the Air France A380 to Atlanta

On March 31, 2019, the airline Air France deployed an Airbus A380 between Paris and Atlanta, becoming the first to offer First Class between the American airport and Europe. Air France aircrew, making this first flight AF 688 Paris CDG - Atlanta ATL in A380, kindly transported on board the entire draw of the 250 aerophilatelic envelopes that we had produced on the occasion of the announcement by Airbus of the end of production of the A380.
Data sheet
dateemission

01/02/2019