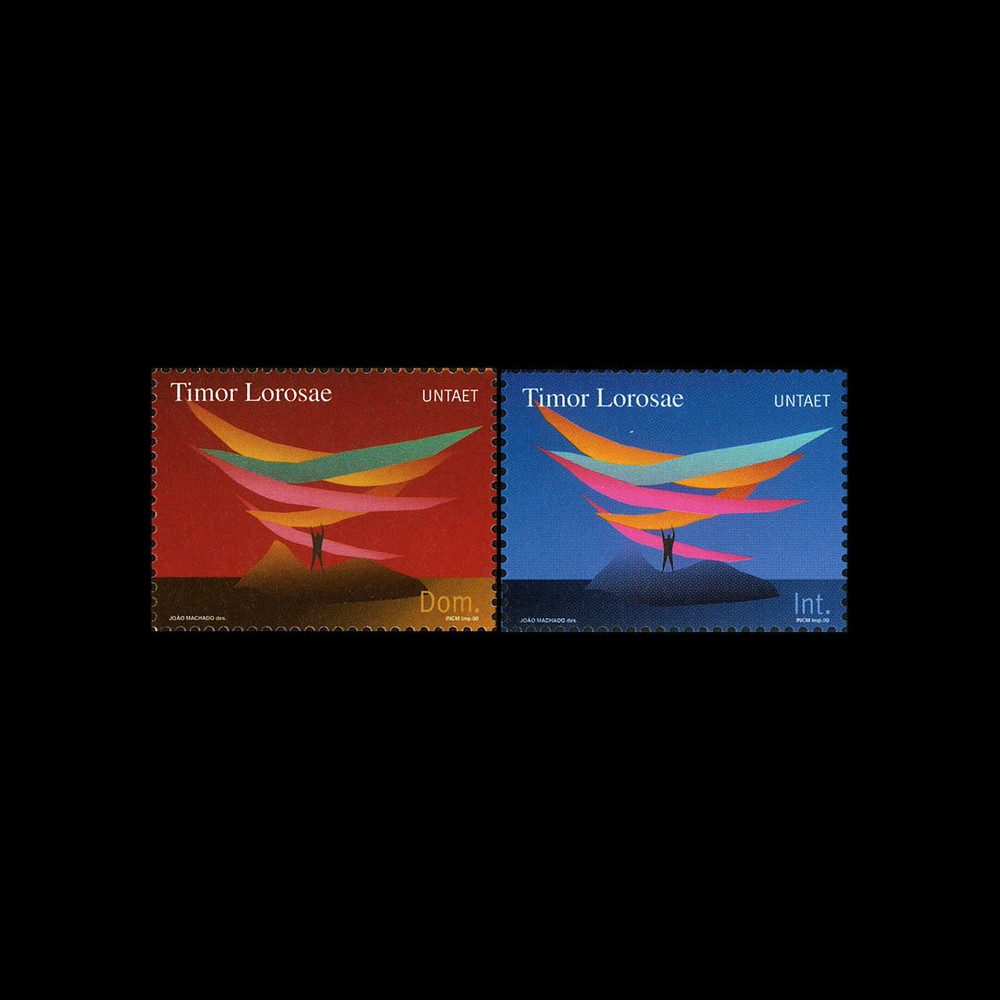  
BR109N : 2000 - 2 values "First interim issue of East Timor UNTAET"
BR109N : 2 values in NEW "1st issue of the provisional East Timor (Timor Lorosae) and UNTAET(UNTAET established to administer the territory and exercise legislative and executive authorityduring the transition period).
- 1 blue stamp for int, international to 50 U.S. cents
- 1 red stamp for dom, interior to 10 U.S. cents
UNITED NATIONS TRANSITIONAL ADMINISTRATION IN EAST TIMOR - UNTAET

On 30 August 1999, the people of East Timor voted by means of a direct, secret and universal ballot to begin a process leading towards independence. UNTAET was established on 25 October 1999 to administer the Territory, exercise legislative and executive authority during the transition period and support capacity-building for self-government.

29th April 2000 mark in the history of East Timor, a symbolic date after the destruction of communications infrastructure led by Indonesians and their surrogates in September 1999.
That day, it was reopened post offices in Dili and Baucau, and more symbolically to the issue of 2 stamps bearing the words "Timor Lorasae" and "UNTAET"
Absent philatelic landscape since 1975, East Timor, by this issue, found its own identity after being forced to use the Indonesian stamps since 1976.

In the presence of Xanana Gusmao and the administrator of UNTAET Vieira de Mello, the first stamps were sold in the general rejoicing. Xanana and Vieira de Mello were the first two letters sent to the President of the Portuguese Republic and to Kofi Annan, since the interruption of postal service in September 1999. The 60,000 stamps were sold in one week. A new shipment of 30,000 stamps was made in the following weeks.
This whole operation was made possible through the services of Portuguese Post : indeed, they have created, manufactured and delivered the stamps Correios Timor Lorosae free. Portuguese Post provided also all the desk material, the pen to the computer.

East Timor became an independent country on 20 May 2002. Also that day, UNTAET was succeeded by the United Nations Mission of Support in East Timor (UNMISET) established by Security Council resolution 1410 of 17 May 2002 to provide assistance to core administrative structures critical to the viability and political stability of East Timor.
Data sheet
dateemission

29/04/2000