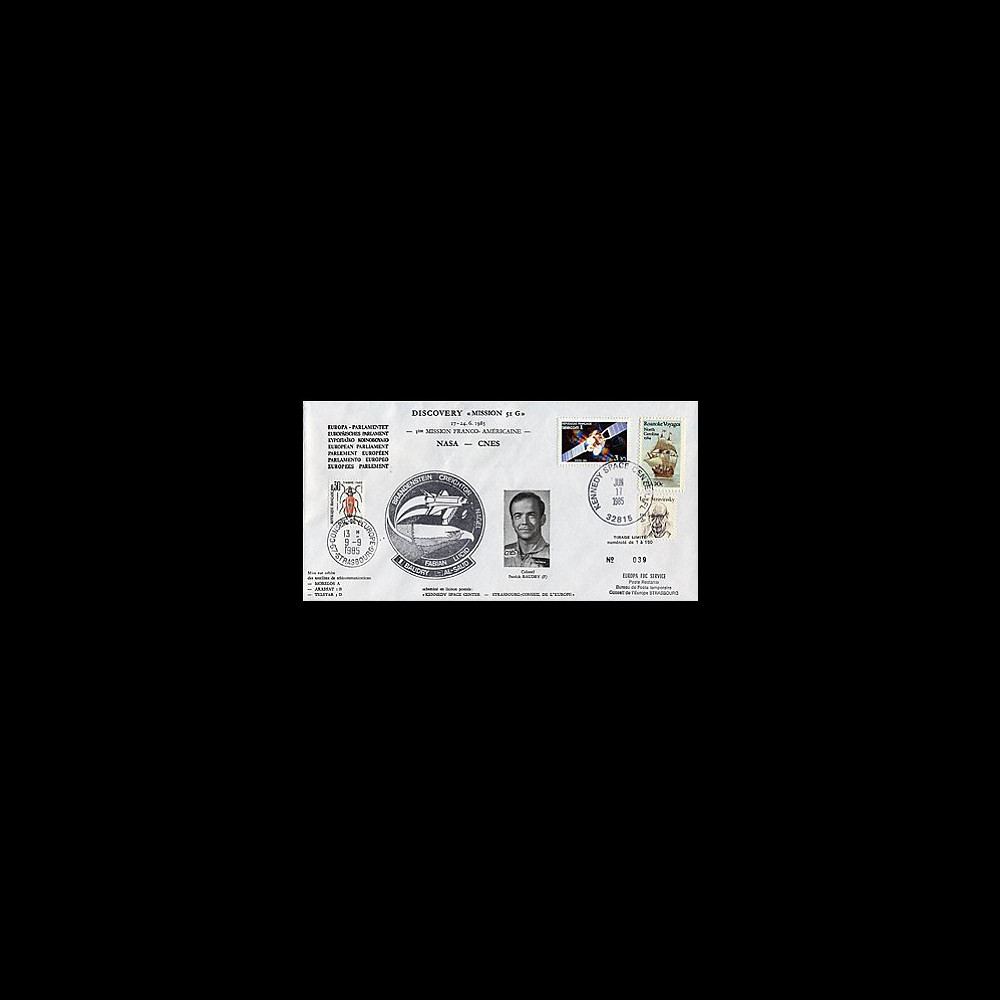  
STS-51Ga : 1985 - 5th mission space shuttle Discovery and 1st French on board
N°STS-51Ga: Service envelope of the European Parliament «5th Launching Discovery STS-51G - Cancellation postmark large size Kennedy Space Center 17.06.85
+ mail connection «European Parliament».
Drawing N°1/150
Rare!
Discovery 51G PATRICK BAUDRY, PREMIER FRANÇAIS DANS L'ESPACE POUR UNE MISSION AMÉRICAINE
17/06/85 : lancement Kennedy Space Center 24/06/85 : retour Edwards Air Force Base
Premier Saoudien et premier Français à voler dans l'espace sur une mission américaine.
Le vol se passa comme prévu, sans incident. Les trois satellites : MORELOS-A (Mexique), ARABSAT-A (Arab Satellite Communications Organization) et TELSTAR-3D (AT&T) furent déployés, SPARTAN-1 fut déployé et récupéré.
Equipage Astronautes américains : Daniel Charles BRANDENSTEIN (Commandant), John Oliver CREIGHTON (Pilote), John McCreary FABIAN, Shannon Wells LUCID, Steven Ray NAGEL (Spécialistes de mission).
Astronautes de l'Agence Spatiale Européenne : Patrick BAUDRY - France, Salman Abdel-Aziz AL-SAUD - Arabie Saoudite (Spécialistes de charge utile).
Data sheet
dateemission

17/06/1985