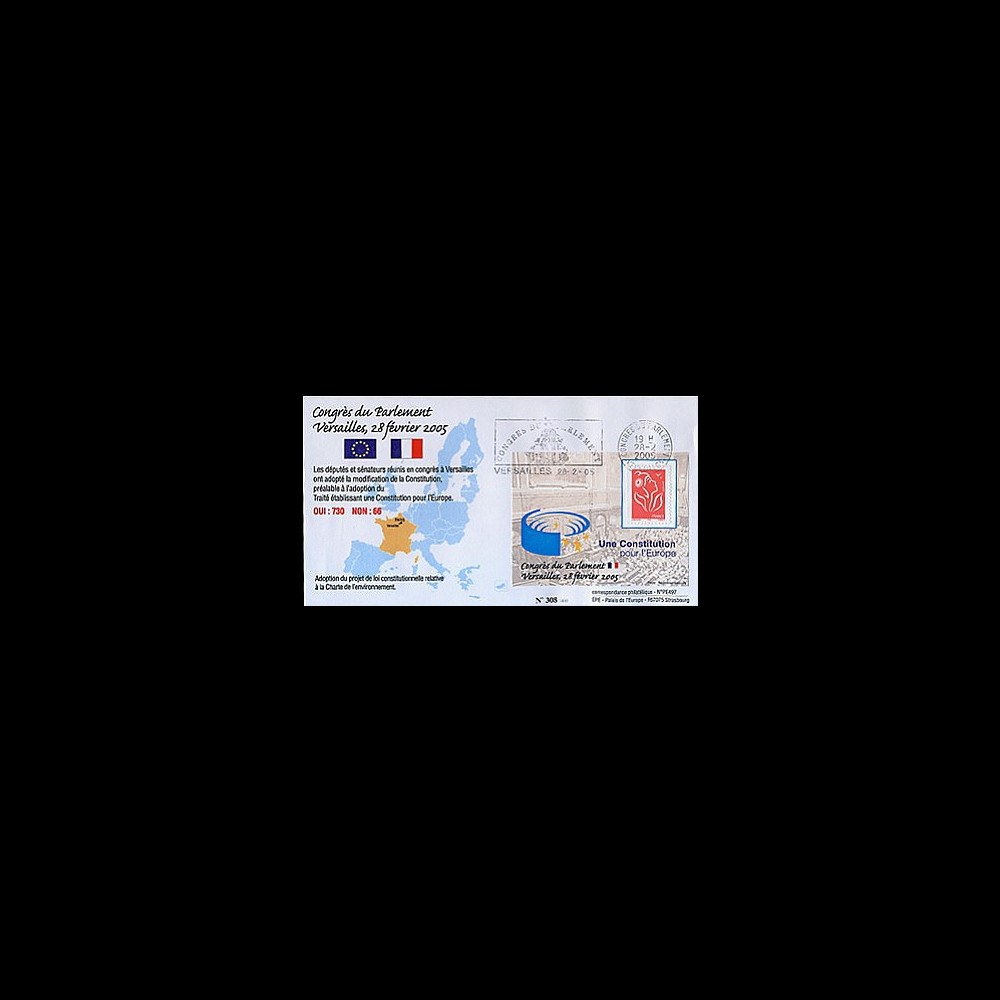  
PE497 type2 : 2005 - Congress of the Parliament, Versailles
N°PE497 type2: FDC «France : Congress of the Parliement, adoption of the modification of the Constitution preliminary to the adoption of the Treaty setting up a Constitution for Europe» Slogan cancellation  (type2) «Congress of the Parliement, Versailles» 28.2.2005 postage special stamp avec 1 value "Marianne 2005".

Drawing N°1/400

Every convocation of the Congress of the Parliament in Versailles causes the opening of a temporary postoffice, accessible to the members of Parliament only, empowered with a slogan of a dated stamp "Congress of the Parliement, Versailles". These cancellations are still very held by he philatelists.
Le Parlement réuni en Congrès à Versailles le 28 février 2005 a examiné deux projets de lois constitutionnelles : celui sur les modifications préalables à la ratification du Traité établissant une Constitution pour l'Europe, et celui sur la Charte de l'environnement. La majorité des 3/5e nécessaire à la révision de la Constitution a été respectée avec 730 oui contre 66 non; sur les 15 révisons constitutionnelles effectuées depuis 1958, 5 concernaient l'Union européenne. La révision de la Constitution est une étape majeure, incontournable, sur la voie de la ratification par referendum du traité constitutionnel européen.
Data sheet
dateemission

28/02/2005