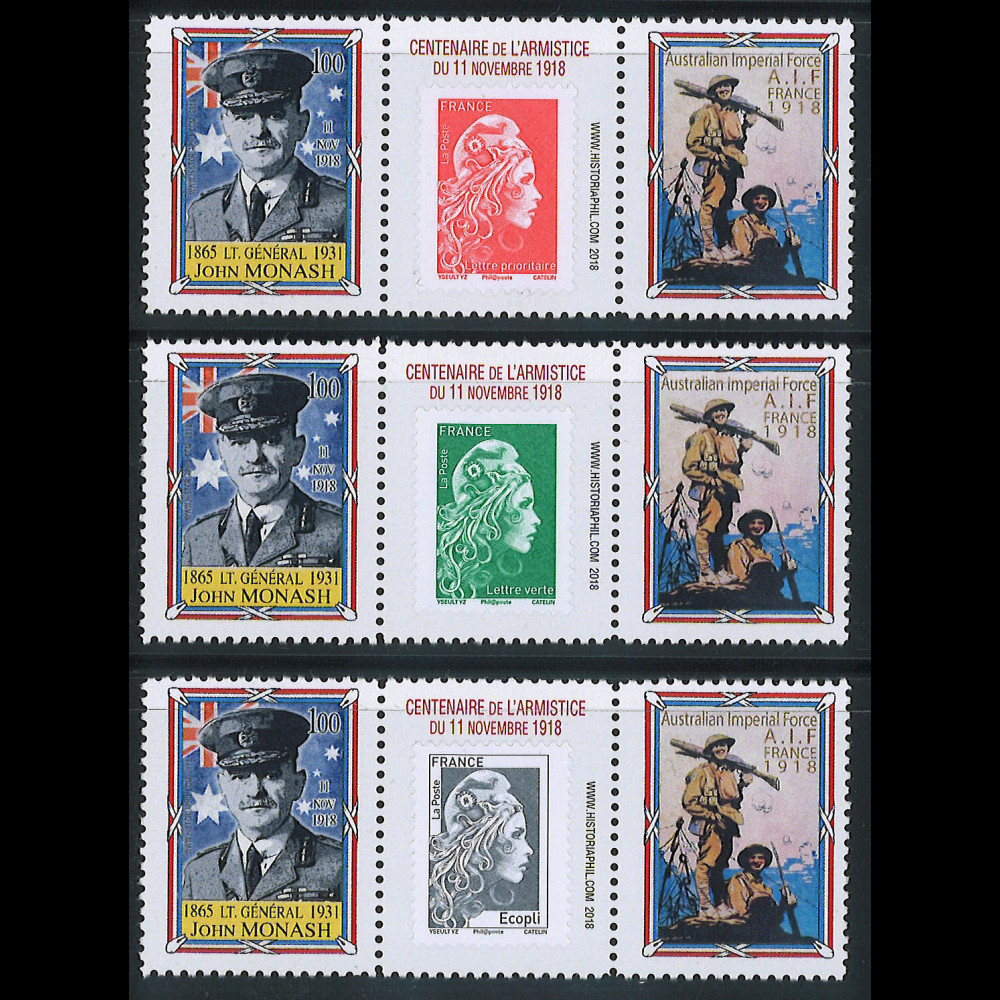  
CENT18-3PT1-3 : 2018 France - Marianne on 3 cinderella stamp blocks "Centenary ARMISTICE 1918 - Australian Exp. Forces General Monash"
CENT18-4PT1-3 : 2018 France - set of "Marianne" on cinderella stamp blocks of 3, perforated und gummed  "Centenary of Armistice 1918-2018 / Lt. General John Monash, Commander of the Australian Expeditionary Forces Corps AIF"

Postage France "Marianne l'Engagée 2018" (prio, lettre verte, eco 20g)
MINT**
les derniers jours qui ont mis un terme à la première guerre mondiale
OFFENSIVE ALLIÉE VICTORIEUSE DES 100 JOURS  
Le Corps Expéditionnaire Australien AIF dans les Batailles de la ligne Hindenburg    août - nov. 1918

Le 31 août 1918, le Lieutenant-général John Monash, commandant du corps expéditionnaire australien AIF (sous commandement britannique), conduit la 2e division australienne à la victoire lors de la bataille du Mont St-Quentin qui libère Péronne le 1er septembre.

Monash prévoit alors l'attaque sur les défenses allemandes dans la bataille de la Ligne Hindenburg. Les Alliés ouvrent une brêche et le 5 octobre 1918, les allemands demandent un armistice.
Data sheet
dateemission

11/11/2018