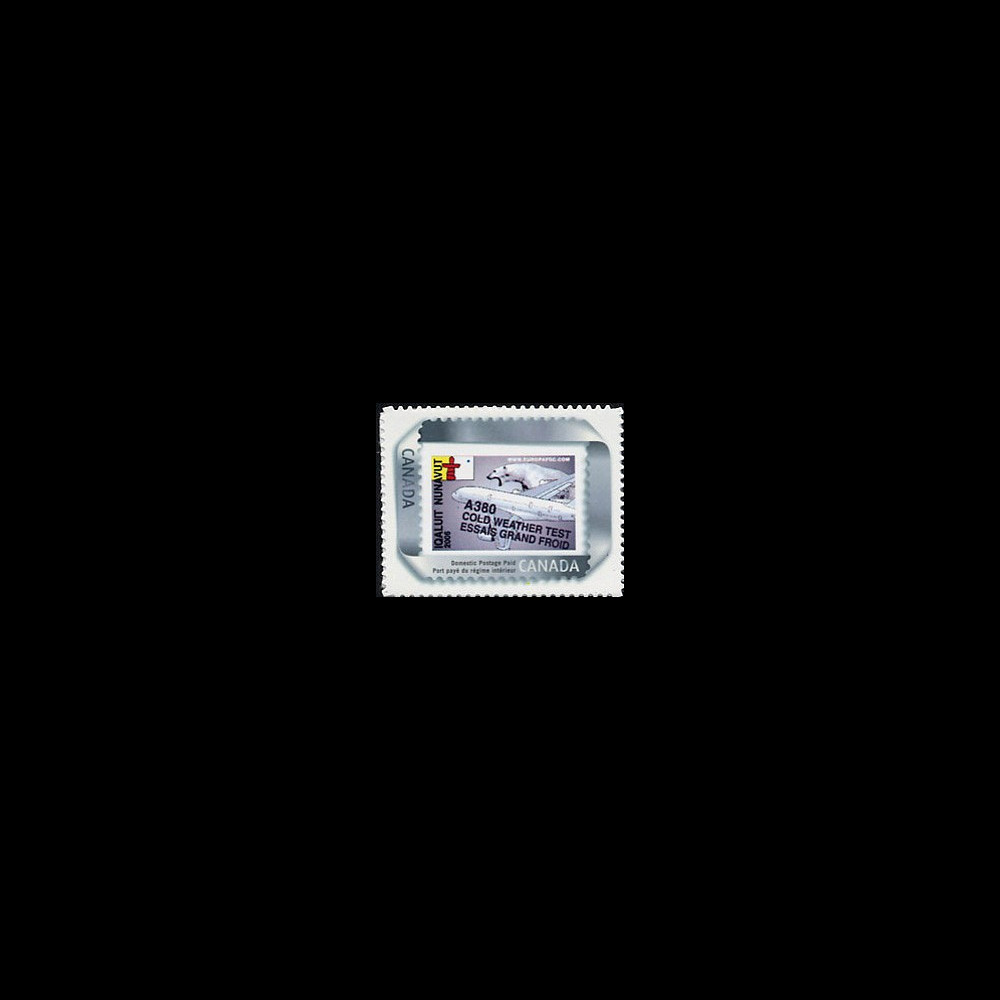  
A380-16N : 2006 - Personalized stamp A380 Tests Cold snap - CANADA
N°A380-16N: 1 value of the Canadian personalized stamp "A380 tests in condition of cold snap" issued in the occasion of the tests "cold snap" realized in Canada by the Airbus A380 MSN 004 at the airport of Iqaluit, territory city Inuit de Nuvanut.The aerophilatély has not been forgotten in this event .Indeed , a nice stamp and personalized booklet 'AIRBUS A380 - TESTS COLD SNAP - IQALUIT 2006' were issued in Canada for the occasion. They represent the white A380 MSN 004, a polar bear and the flag of the Canadian territory of Nunavut.
Iqaluit 2006 : essais 'grand froid' dans le grand nord canadien pour l'Airbus A380

L'Airbus A380 N°MSN 004 a effectué une série d'essais «grand froid» au Canada. C'est l'aéroport d'Iqaluit, ville du Territoire Inuit de Nunavut, dans le grand nord canadien, qui avait été choisi par les essais en vol pour ces tests.

Arrivé le 6 février, l'A380 MSN 004 (second prototype des essais en vol) s'est retrouvé dans les conditions météorologiques locales, le mercure descendant à -30°C. Ces essais de cinq jours ont permis de vérifier le fonctionnement des systèmes du géant des airs dans de telles conditions. Les essais en question comprenaient entre autre le démarrage de l'appareil, de tous ses systèmes et de ses réacteurs après un arrêt total de douze heures. Seules les batteries de l'avion ont eu droit à un local chauffé pour la nuit.

A l'occasion de son retour en Europe, le 14 février, l'équipage en a profité pour effectuer des essais de navigation en milieu polaire. (source : www.airbus.com)

L'aérophilatélie n'a pas été oubliée dans cet événement. En effet, un très joli timbre et feuillet personnalisés 'AIRBUS A380 - ESSAIS GRAND FROID - IQALUIT 2006' ont été émis au Canada pour l'occasion. Ils représentent l'A380 blanc MSN 004, un ours polaire et le drapeau du Territoire canadien de Nunavut.
Data sheet
dateemission

14/02/2006
You might also like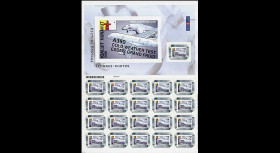 Regular price
€299.00
-30%
Price
€209.30